Eagle eyed Vanuatu skipper Andrea Traverso recalls this lucky encounter he had recently. GT fishing Vanuatu is pretty much an offshore proposition but a shore caught GT anywhere is a great capture in anyone's books.
"I'd been out fishing on a friends boat this day, GT popping Vanuatu reefs, jigging seamounts for some good fish. We'd landed the boat on an island in the afternoon. I was walking with my cousin along the beach, it was deserted because this place is hard to get to, the signs in the water looked active and fishy – plus it was overcast. Then I saw 2 dark shapes cruising the sand flats, I thought a shark first but then I saw clearly they were 2 x GT's which is so much better, a larger fish followed by a smaller one.
They were cruising the shallows looking to ambush fish in the low light. So I ran back to the boat where my GT popping rod was, Stella 18000SW, Shimano Ocea Bluefin rod, rigged with a Kaiser El Toro 125 gram lure (dark colour). I caught up with them, still a good distance for me to reach. My first cast landed in a good zone and straight away the GT's see it splash down, turn and come straight in for my popper.. The smaller trevally is faster and attacks, but misses the strike (fortunately) and then the big fish comes in behind it and the big guy didn't miss.
It was a very fat strong fish and in great condition, so it took a lot of heavy drag and lucky for me it was clear shallow water. When it was time we landed it on the beach and took a few shots then a quick release. We all watched it swim off, a storm was over in the distance."
Andrea Traverso,
Vanuatu January 2011
Don't take our word for it
Fantastic trip with 5 star, fishing, crew, accommodation and meals. An excellent way to kick off one of the "bucket list" items. Sensational way to spend a week. We will definitely return.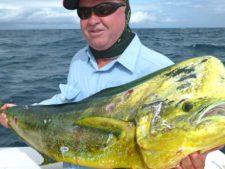 Amazing fishing, food and staff. Jeanine is amazing. We will be back.