This was Matt O'Brien's second occassion fishing Vanuatu and what is probably his 5th trip now with Ocean Blue.
Matt and his friends only had time for 1 days fishing during this quick holiday to Port Vila.  As luck would have it for Matt, the opportunity arose to head out on Azzurra to fish one of the seamounts skipper Andrea Traverso knows.  It's a fair journey to get there but well worth the early start.
Within minutes of arriving at the seamount, both outriggers went off with a double hook-up, resulting in a sailfish on one side and a good yellowfin tuna on the other. The sailfish went about 50kg keeping them busy as it took off jumping and tailwalking across the surface.  With two different species to the boat early, the sailfish was quickly photographed and released back into the deep blue waters of Vanuatu and the lures put out once again. The pelagic action continued with the anglers scooping five (5) Wahoo and another two (2) yellowfin tuna before they decided to leave the seamount and relocate to do some jigging.
The guys deepwater soft plastics technique landed a nice little GT, which took a Bozo's Thumper Grub.   With fading light and not too much time left, they hooked up when the live bait went off, after a searing run they were reefed convincingly which had big Vanuatu dogtooth or "doggie" written all over it. Time to pack up and head back for some well earned beers…
Report By Skipper Andrea Traverso
Don't take our word for it
Fantastic trip with 5 star, fishing, crew, accommodation and meals. An excellent way to kick off one of the "bucket list" items. Sensational way to spend a week. We will definitely return.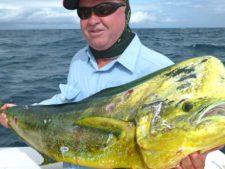 Amazing fishing, food and staff. Jeanine is amazing. We will be back.