We cater for all experience levels from
beginners to experienced anglers.
All rods, reels, lures and terminal tackle are provided on our adventures on a replace if lost/broken basis. This is ideal for anglers not wanting to invest in an arsenal of specialised tackle required for a number of our adventures. This is also a cost effective option for anglers only paying for what is lost or broken.
We carry a range of poppers, jigs & terminals which are available for purchase on site or replenish if required during your trip.
We are fortunate to have a range of locations available allowing for a wide range of options and tackle. These include island fringes, reefs, bluewater, seamounts, offshore FAD's, flats and current fed passages. We are also on the lee side of our island, so offshore fishing is in protected waters sheltered from trade winds and swell.
For popping and jigging, long casts are essential and working large poppers & jigs is quite physical. If you haven't done a lot of this then you'll find having some smaller lures and light tackle provides nice variety, chasing small yellowfin tuna, mahi mahi, job fish, bluefin trevally, red bass, coral trout etc on medium and light tackle. We also have electric reels for deep (100m-300m) bottom fishing, bringing up deep sea bream, poulet fish, grouper, puka puka and grouper to name a few.
For anglers wanting to bring their own gear
Recommended Jigs
Jig weights, take minimum 6-8 from 60g -130g per person as these can work anywhere. Small leaf jigs work well cranked fast. Then 4-5 jigs from 150–250g. Generally the shorter jigs work better than long knife jigs in the tropics. We lose more jigs than surface lures. Please find a few name brands that work well in Vanuatu.
Patriot Designs, Blast Edge, Cyber Edge
OA, Ocean Attitude
Jigging Master Fallings Special
Seven Seas Hooker
Shout
Maria
Black Magic
Recommended Poppers/Stickbaits (Dogtooth/GT's/Yellowfin tuna)
Surface lures, selection of quality cup faced poppers, pencils and floating and sinking stick baits for heavy & medium casting. Terrain is generally unforgiving, deep water close to steep islands etc so loses are generally minimal. 6-10 maximum is quite sufficient. Please find a few options that work well in Vanuatu.
Shimano Ocea
Maria Loaded
Heru Cubera, Tuna, Skipjack
ASWB 130g sinking, ASWB 90g floating
Halco Roosta / Haymaker 195mm, 160mm
Other brands, Orion, Hammerhead,FCL Labo, Adeck, Fisherman, Carpenter, Smith
Medium Tackle / Soft Plastics
Medium tackle surface lures, small metals & soft plastics. Match the hatch, worth having a small selection as dogtooth, yellowfin tuna & mahi mahi will take these readily. Please find a few options that work well in Vanuatu.
Halco Roosta 110mm, 135mm
Small jigs, metals for light tackle
Tailwalk Gunz
Soft Plastics – 5/8th – 2oz Jig head, 5-9inch tail for medium tackle. Squidgy Wriggler, Sluggo, Gulp Nemesis
Duel Slider
Line / Terminal Tackle
Heavy casting & jigging 80 – 100lb braid / leader, 130lb – 170lb
Medium tackle, 40-65lb braid / leader, 60 – 120lb
Upgraded treble hooks, split rings, swivels.
Strong Kevlar / Zylon for wahoo, dogtooth etc. Wire is used occassionally
Jig assist hooks 4/0 to 10/0
Light tackle, 20-30lb / leader 20lb – 50lb
Saltwater Fly Fishing
Sinking and intermediate line
15 weight for marlin
8-9 weight if you want to try smaller fish
Streamer Flys
Popper Flys
Lengths over 20cm for larger pelagics
12 weight for wahoo, mahi and yellowfin
For those who wish to travel light or need to replenish mid trip, we offer a selection of tackle, jigs, poppers and stickbaits that are available for purchase onsite. Ask us about our tackle price list.
Our adventures
Your journey starts here
Don't take our word for it
We had a fantastic experience. Service here at Trees and Fishes was beyond our expectations and the fishing was great too. It was an unforgetable trip with many great memories. Thanks Ocean Blue and to the Trees and Fishes team.We will be back!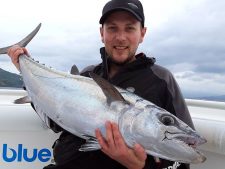 Thanks again for all Ocean Blue's efforts in making our recent mothership trip the huge success it was. As always all your efforts are greatly appreciated. Really was 1st class trip in every aspect.