About
The Federation of Malaysia comprises of Peninsular Malaysia, and the states of Sabah and Sarawak on the island of Borneo. In the northern part of Peninsular Malaysia lies Thailand, and in the south, neighbouring Singapore. Kuala Rompin is a town in the Rompin district of the state of Pahang, Malaysia. It's located in the south-east coast of Peninsular Malaysia and faces the South China Sea. As a people, Malaysians are very laid back, warm and friendly. Geographically Malaysia is as diverse as it's culture, full of extreme contrasts, cool hideaways in the highlands, warm, sandy beaches, ancient reefs and humid mangroves.
Population
27.17 million
Capital City
Kuala Lumpur
Climate
The country experiences tropical weather year round. Temperatures vary from 21°C to 32°C. Higher elevations are much cooler, with temperatures between 15°C and 25°C.
Time Zone
Greenwich Mean Time (GMT) + 8 hours. Two hours behind
Australian Eastern Standard Time.
Currency
Malaysian Ringit (RM) Click here to view latest exchange rates
Are Visa's Required?
Australian citizens/passport holders do not require a visa for a short stay in Malaysia. Make sure your passport has at least six months validity, and carry a copy of a recent passport photo with you in case you need a replacement passport while overseas.
Paying Locally – ATM's/Credit Card Facilities
Malay Ringit will be required at the resort, with most major credit cards accepted other than AMEX. ATM facilities can be accessed on transfer up from Singapore. Please ask the Ocean Blue representative who will accompany you in and out of Rompin to take you to the nearest ATM.
Fish Handling Policy
Due to a law passed by the Malaysian Royal family to encourage tourism and sustainability, it is illegal to remove or bring ashore sailfish from the waters around Kuala Rompin. Local seafood is abundant, fish & calamari dishes are served at the resort and at the restaurants in town.
Alcohol
Limited bar facilities are available at the resort. Please advise Ocean Blue of any special requests.
Electricity/Adaptors
Electricity/power outlets throughout Malaysia are commonly known as the 13 amp plug. Plugs have three pins, 220V on land and DC on the boat. Adaptors are required.
Rod Tubes/Local Luggage Limitations
Telescopic rod tubes are advised, maximum length 200cm (please refer to your ticketing)
Getting There
There is an immigration / customs process involved on the trip up to Kuala Rompin from Singapore. Ocean Blue's Singapore based representative will accompany guests through this entire process, which is streamlined and very easy.
Tipping/Gratuities
Tipping is not mandatory in Malaysia, but tends to be a common practice on conclusion of a charter; if you wish to pass the hat around between the group, AUD $50 per days fishing (per boat) is a rough guide. Lures, sunglasses and cool t-shirts are also a hit with crews. Please note, all tipping to skippers, deck hands, crew or other service providers is entirely up to the individuals' discretion.
Some local currency is required (handy to have) for the transfer for refreshments and a restaurant meal.
Unforeseen Expenses
Any additional or unforeseen expenses; i.e. lost or damaged tackle, lure purchases, etc.. to be paid directly to your skipper.
Don't take our word for it
Fantastic trip with 5 star, fishing, crew, accommodation and meals. An excellent way to kick off one of the "bucket list" items. Sensational way to spend a week. We will definitely return.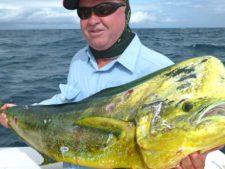 Amazing fishing, food and staff. Jeanine is amazing. We will be back.