The Prize
Sailfish work in packs hunting these waters for bait schools and their aggressive feeding patterns offer anglers numerous sport fishing opportunities. Rompin offers anglers the option of fishing for sails using various techniques including traditional trolling, live baiting, lure and popper casting. For fly anglers the sailfish can be so thick that teasing fish to the back of the boat becomes second fiddle to simply casting into the schools. These warm, calm waters off the coast of Kuala Rompin are arguably one of the best destinations for anglers targeting these billfish.
Sailfishing Rompin
Want to experience the excitement of having multiple sailfish hooked up at once? It's always a chance at Rompin. Other species encountered include small black marlin, cobia, spanish mackeral, trevally and mahi mahi, making Rompin a very exciting light tackle destination. The fishing season begins in April and continues until the monsoon which begins mid November. The months in between offer consistently calm seas and spectacular sailfish action. Kuala Rompin offers anglers an affordable international sportfishing destination, with a wonderful Malaysian flavour.
Don't take our word for it
Fantastic trip with 5 star, fishing, crew, accommodation and meals. An excellent way to kick off one of the "bucket list" items. Sensational way to spend a week. We will definitely return.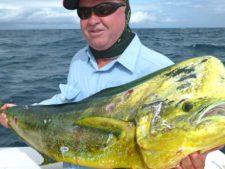 Amazing fishing, food and staff. Jeanine is amazing. We will be back.