Perfect for Couples and Small Groups
The ideal tropical island escape located on the doorstep of Rompin's famous sailfish grounds.
Japamala offers an extraordinary and opulent experience that embodies the tranquility of its tropical setting. Its wooden chalets, hillside sarangs, and beachside villas are meticulously crafted and thoughtfully designed to harmonize with the surrounding nature, providing guests with a seamless blend of rustic charm and luxurious comfort. Every detail has been carefully considered to ensure a serene and enchanting ambiance, allowing you to immerse yourself in the beauty of the surroundings. Prepare to be captivated by the unique allure of Japamala, where every stay promises an unforgettable journey into a world of indulgence and natural splendor.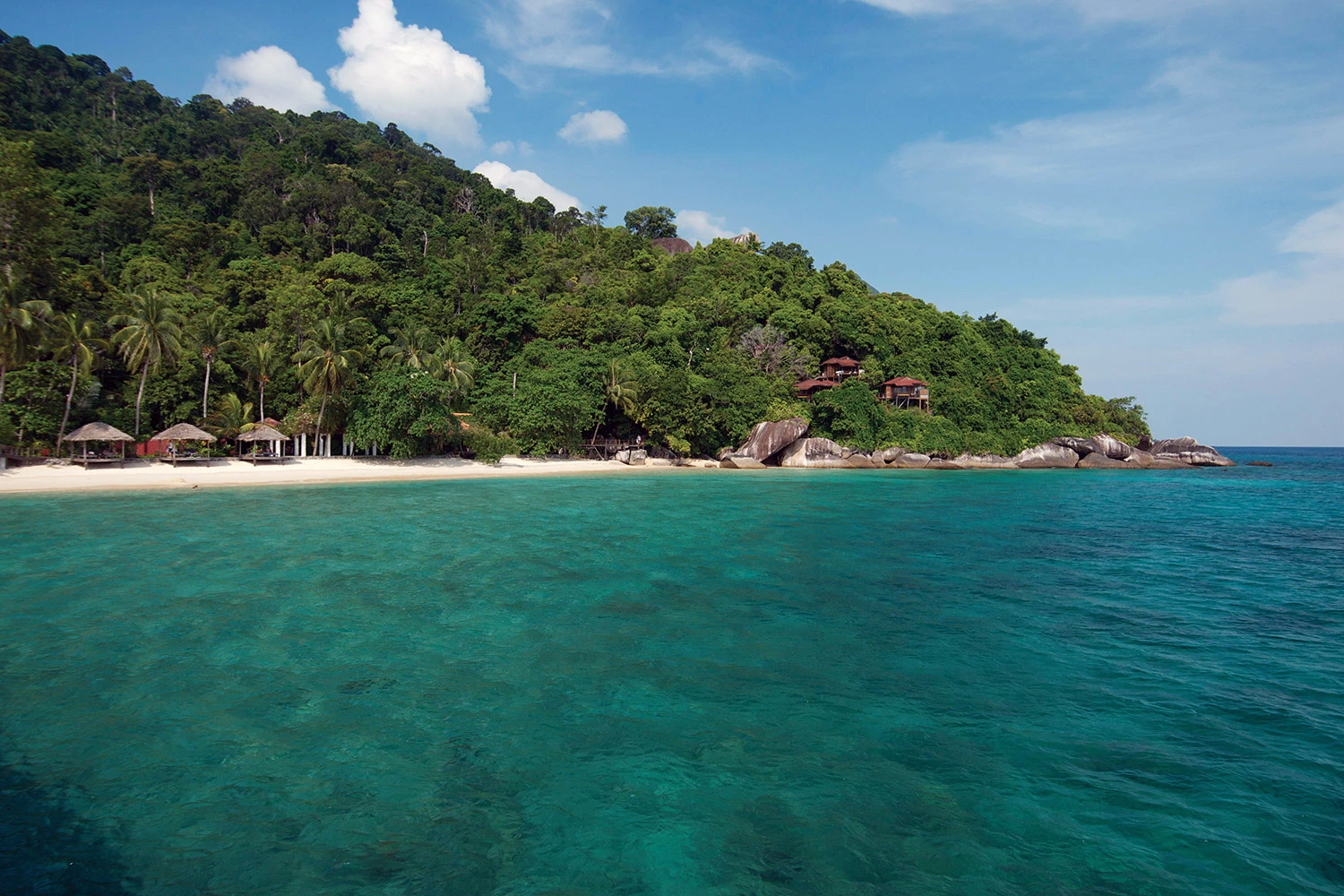 All of the rooms are equipped with air-conditioning, DVD players, cable television, mini bars and Espresso machines, and some rooms also feature private plunge pools and wooden sun decks for added indulgence. Whether you are looking for a relaxing getaway or an adventure-filled vacation, Japamala has something to offer for everyone.
Treetop Chalets
Experience a unique stay at the secluded jungle chalets, perched high above the lush canopy. Only a short walk up from the beach, these chalets offer a truly special resort experience. Enjoy the sounds of nature – the soft rustle of windblown leaves, the chirping of crickets and birds, and the foraging of wild creatures at night. Soak up the tranquility of the jungle, and be delighted by the close proximity these chalets offer to nature.
Seacliff Chalets
Perched high on a cliff with the stunning turquoise lagoon of the South China Sea right below, our Seacliff Chalets offer mesmerizing views that will take your breath away. Each chalet is unique and features panoramic, unobstructed views from any room – even from the bathroom! Enjoy the sea breeze on our day bed built on an outdoor balcony that hovers over the sea, designed for you to daydream to the sound of the ebbing tide, or simply marvel at the incredible view.
Beach Sarang
Escape to the ultimate beach haven at the newly constructed Beach Sarang! Located just steps away from the beach and nestled amongst lush jungle surroundings, this split level villa offers 114 square meters of living space and all the comforts and facilities for a truly rustic luxury stay. Relax on the heated outdoor plunge pool surrounded by natural boulders and jungle, or soak up the sun on the sea facing pool deck and enjoy utmost privacy during your stay. Make the most of this unique beach getaway and experience the perfect escape!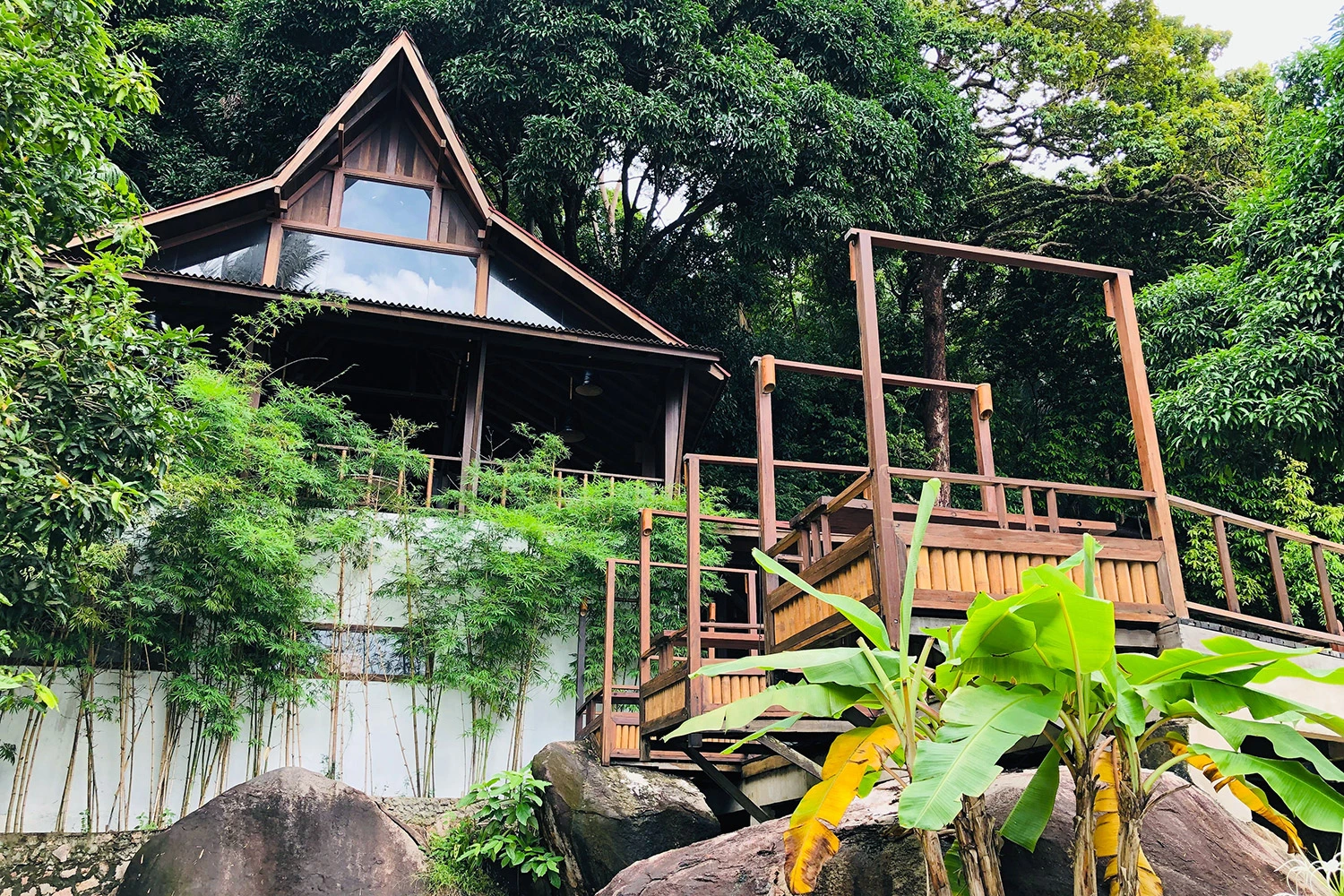 Hillside Sarang
Perched atop the hillside, surrounded by a lush jungle canopy, the Hillside Sarang offers a luxurious experience that will make you never want to leave. With tall windows offering enchanting views and split-level rooms featuring a television lounge, both indoor and outdoor showers, a timber deck, and a tanning bed, you'll drift away in comfort and ease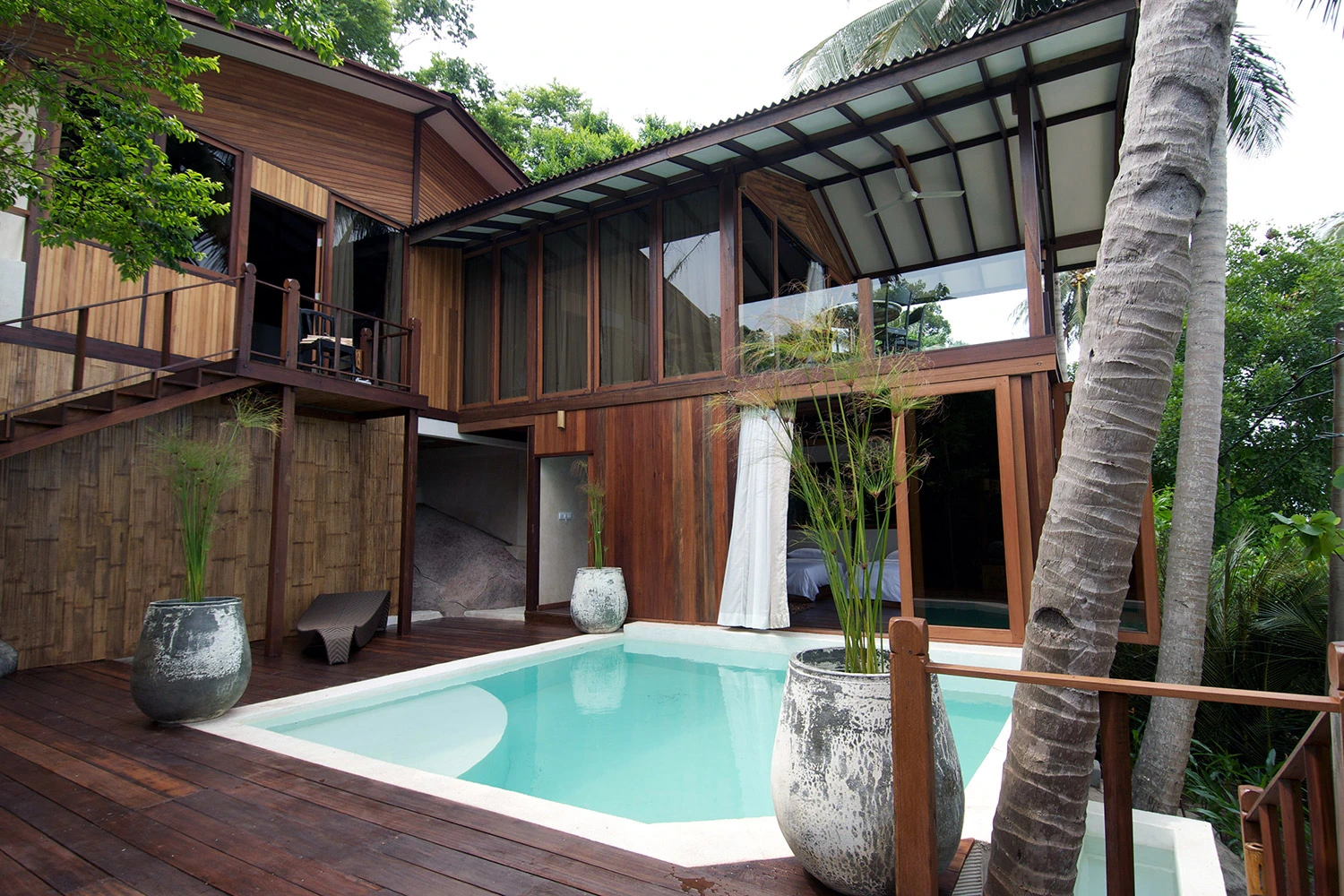 Penghulu's House
Experience Penghulu's House, the resort's only two-storey, two-bedroom villa, with its rustic-luxe rooms and all the comforts of an urban home. Just steps from the beach and surrounded by the lush jungle, this villa is designed to evoke a sense of community within a village. An ancient boulder has been left in place to furnish the interior, while its lofty windows offer stunning views of the natural beauty that surrounds it. Relax and enjoy a unique tropical getaway at Penghulu's House.
Mandi-Mandi Restaurant
Experience something truly unique at one of the resort's most iconic spots, just 100 meters away from the beachfront. Enjoy breathtaking views of the sunset over the waters from our overhanging pavilions, while sipping and savoring our creative selection of beverages and refreshing cocktails. Make your stay unforgettable with a one-of-a-kind experience.
Tamarind Restaurant Tioman
Discover the exotic flavors of Southeast Asia at Tamarind Tioman, the sister restaurant of the highly-acclaimed Tamarind Restaurants in Kuala Lumpur and Singapore. Set against a backdrop of luxuriant rainforest, the wide-open dining area is adorned with stone-carved Buddha statues that infuse the space with an air of Asian elegance.
Skilled chefs have hand-picked the best recipes from across Southeast Asia to create an unforgettable selection of mouth-watering Thai cuisine. Whether you're looking for breakfast, lunch or dinner, Tamarind Tioman has something to suit your palate. A selection of Western breakfast favorites is also available.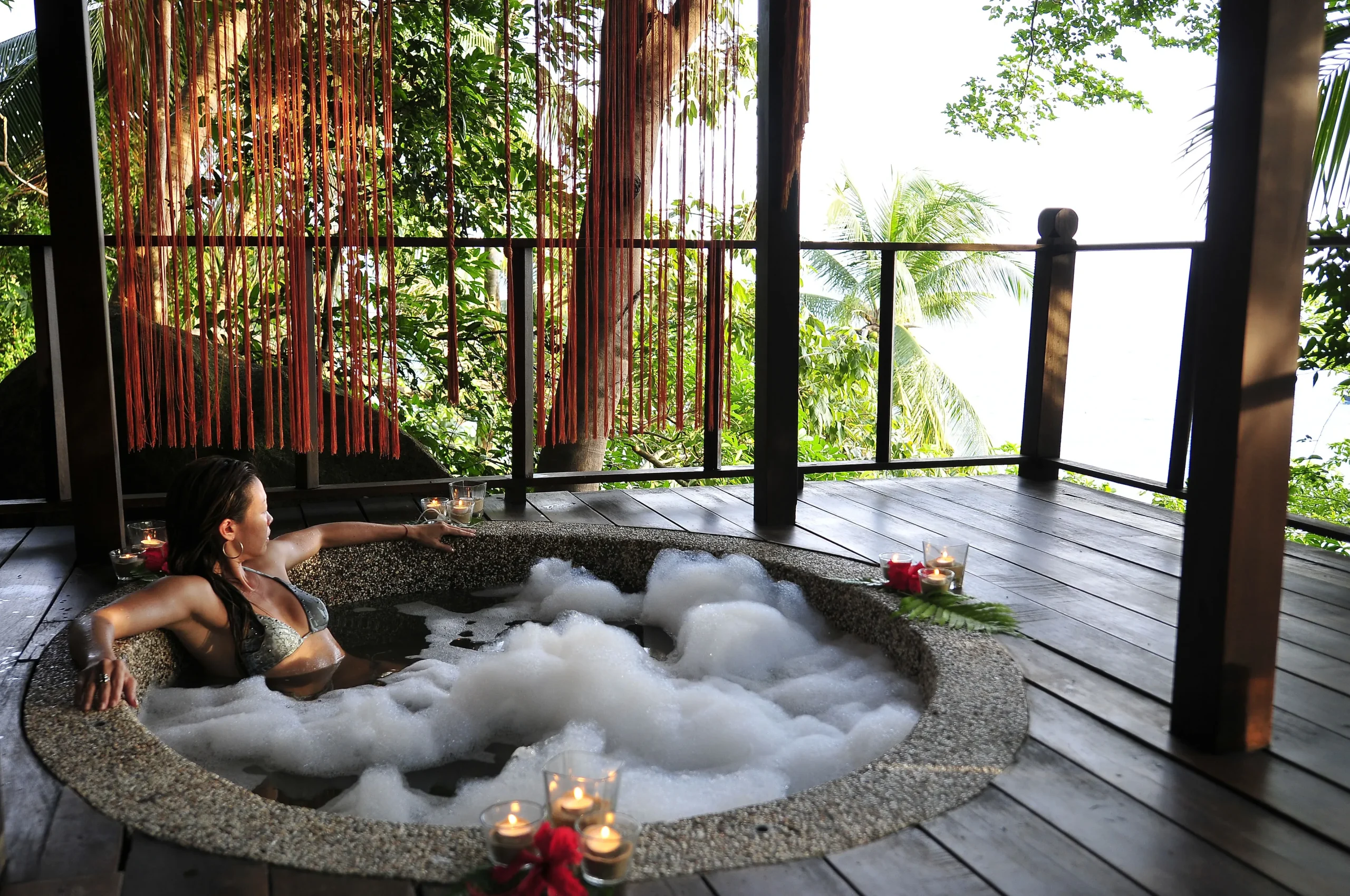 Samadhi Spa
Create a memorable sensory and visual experience with Samadhi Spa. Treatments are specifically designed to restore and rejuvenate both the mind and body. With signature services like a pedicure in a natural cave, massage amidst the treetops, and a soak in the hot tub perched atop a cliff, you will experience a blissful escape from the stress and frustrations of everyday life.
Explore Malaysia fishing adventures