The Ultimate In Blue Water Sport Fishing
Discover Vanuatu, a unique blue water fishing haven—a sensational sport fishing mecca to add to your bucket list!
Looking for an incredible fishing adventure? Look no further than Vanuatu! This stunning destination should definitely be on your itinerary. Vanuatu boasts breathtaking scenery, crystal-clear deep blue waters, and an impressive array of fish species, guaranteeing a fishing experience like no other. Whether you prefer diverse fishing styles or various techniques, Vanuatu has it all. Not to mention the spectacular backdrop that adds to the allure of this must-visit location. Don't miss out on the chance to discover why Vanuatu is the ideal spot for your next unforgettable fishing adventure!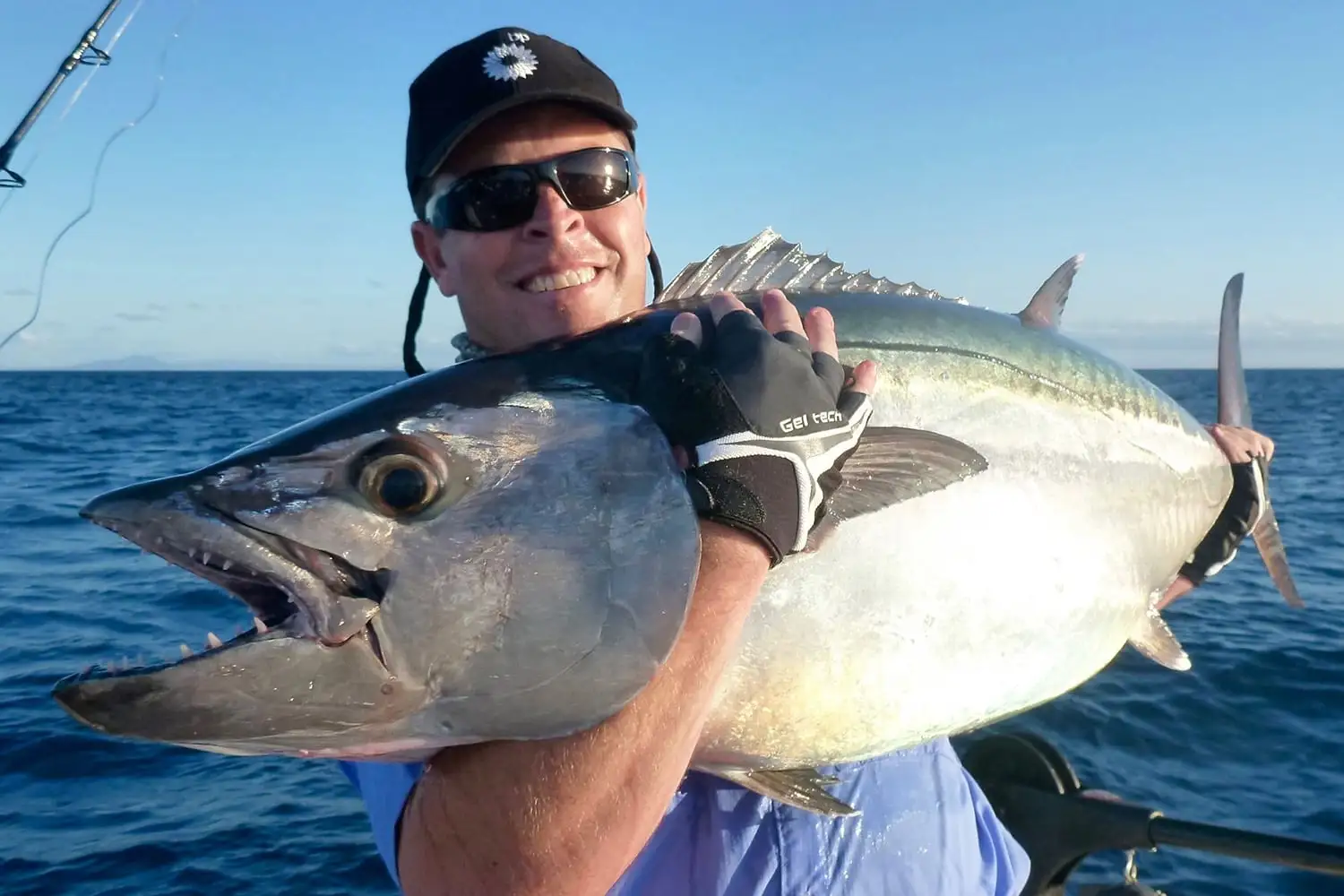 Fishing in Vanuatu: Great Sport Fishing, Accessible and Safe
Vanuatu offers a fantastic fishery suited to beginners and seasoned anglers alike. If you are to describe fishing in Vanuatu in a few words it would be the "unmatched variety". When you take into account the diversity of species around the islands, the remoteness, heart stopping scenery and overall fishing experience, this is a saltwater fishery truly unlike any around the world. You can literally tick off most species on your list on one trip. Access to this remote island paradise is only one flight away from Australia and New Zealand, making this the perfect overseas fishing destination.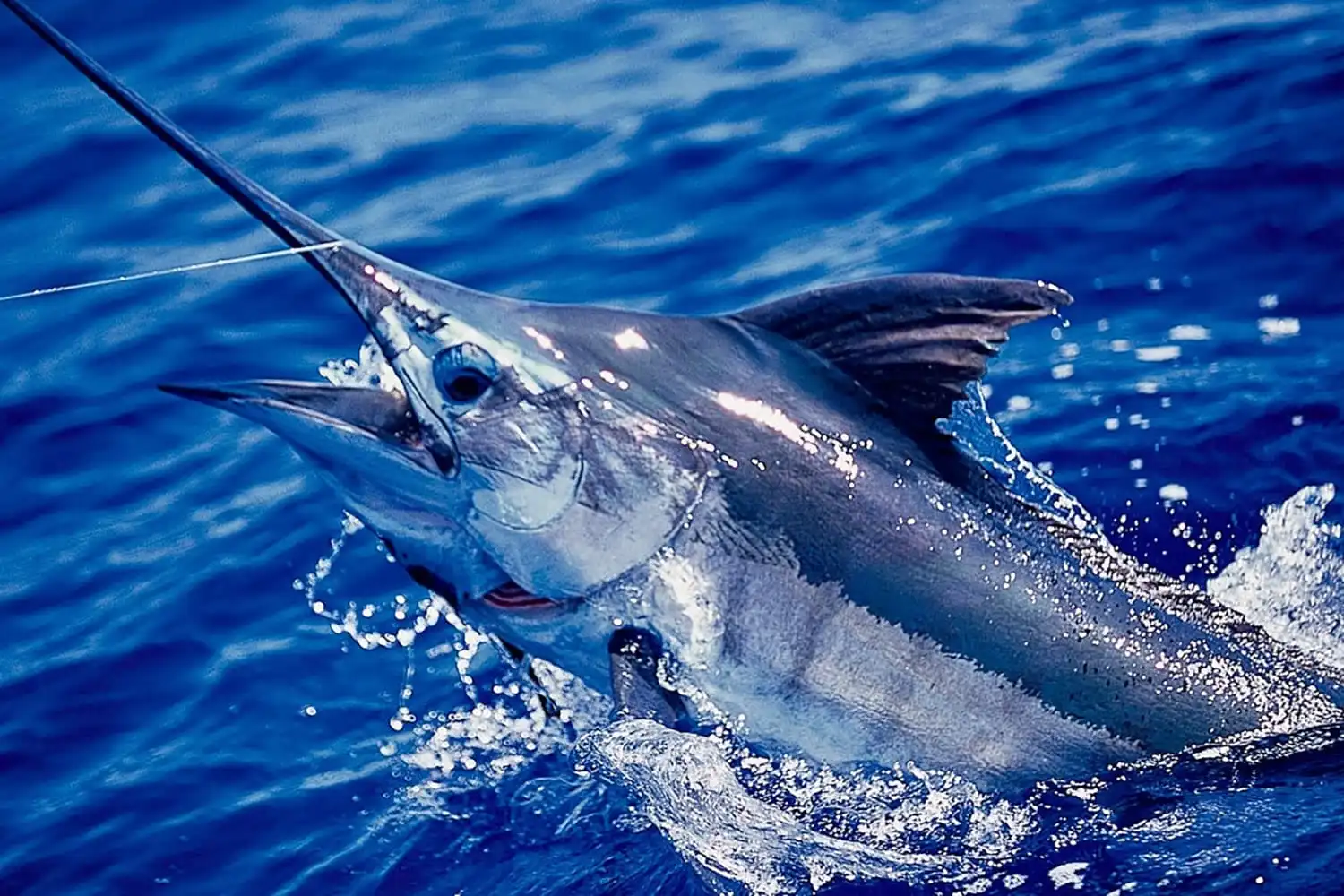 What Can I Catch?
Big Game Fishing
Vanuatu boasts some of the best blue marlin fishing on the planet. Deep water canyons close to shore mean upwellings holding bait, in turn attracting big billfish. For anglers looking for trophy blue marlin, Vanuatu is definitely one destination you need to add to your billfish bucket list.
Black and striped marlin also frequent Vanuatu's shores during the winter months. Sailfish also congregate inshore and can be targeted around the islands when water temperatures cool from June to October.
Topwater Casting and Jigging
If casting poppers and stick baits or dropping jigs is more your style then you won't be disappointed. Vanuatu is the home of monster dogtooth tuna and giant trevally. Blue water pelagic species including wahoo, mahi mahi, yellowfin and bigeye tuna will readily engulf your favorite plug or jig. Around the islands, red bass, coral trout and green job fish are great fun on light tackle. Deep water dropping can also result in solid red barred snapper, cod and deep sea bream.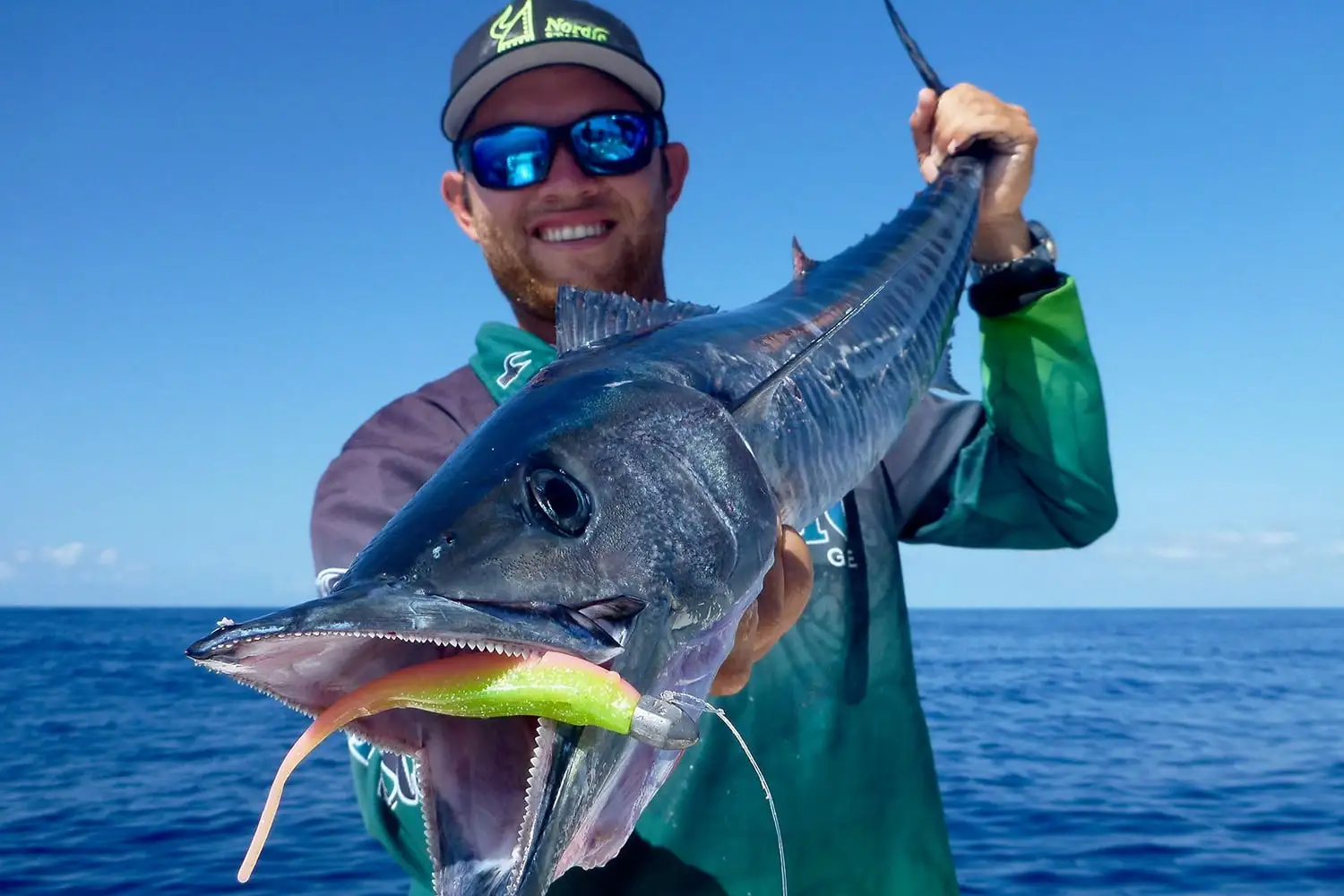 How to Make the Most of Fishing in Vanuatu?
Vanuatu is a beautiful island nation located in the South Pacific that offers a wide variety of fishing opportunities. If you're planning a fishing trip to Vanuatu, here are some tips to make the most of your experience:
Consider your target species
Even though Vanuatu offers great year round sport fishing, think about your target species and plan your trip accordingly. Additionally, it's important to plan ahead and book early to secure your preferred dates. Vanuatu is a sort after destination and trips can be booked out 12-18 months in advance so make sure you get in early. Check out our Vanuatu Fishing Seasons page for more information on the best time for you to travel.
Bringing your own gear?
Make sure you bring along all the necessary fishing gear, including rods, reels, lures, and bait. If you're unsure what to bring, ask us for recommendations.
Consider a multiple day fishing adventure
If you want a more comprehensive fishing experience, consider booking an extended adventure. These charters provide all the gear you'll need, as well as experienced crew members to help you catch fish.
Sustainable fishing practices
Vanuatu has a strong tradition of sustainable fishing, so be sure to practice catch and release where possible. This will help to preserve the local fish populations for future generations. On your charter edible fish species are generally sustainably taken for local consumption.
Respect local fishing regulations
Be sure to familiarize yourself with local fishing regulations before you start fishing. Some areas may have restrictions on the type of gear you can use or the size of fish you can keep. Your guides will be able to advise of any restrictions applicable to the areas you will fish.
By following these tips, you can ensure that you have an enjoyable and productive fishing trip to Vanuatu.
Explore Vanuatu fishing adventures